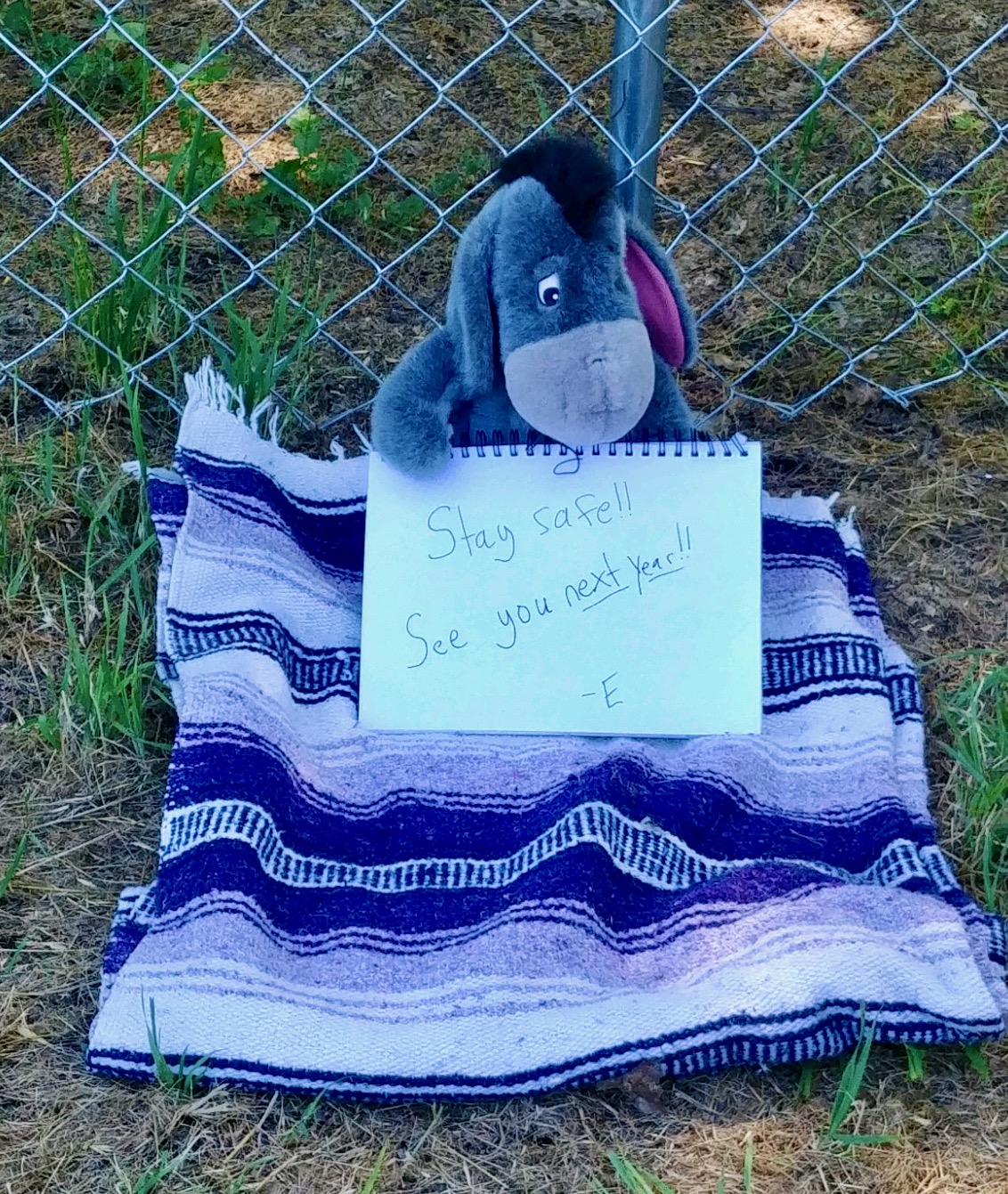 It is with deep sadness that Friends of the Forest must announce Eeyores Birthday Party 2020 is canceled.
Eeyore says "Oh Bother."
This year is a stranger than ever Eeyore's Birthday (number 57). The Eeyore's herd of participants, volunteers, vendors and organizers will come together separately in the magical virtual world.
After 56 continuous celebrations of the uniquely Austin Texas spirit, we will meet online and that's stranger than we ever imagined.
To preserve the Eeyore spirit, herd and kindness, we ask you today to post/give your best pictures on our FaceBook page AND consider a donation to our loyal vendors.
The following are our faithful vendors that would have fed the herd this year.  We encourage you to show your pride and, on Eeyore's Birthday (April 25th 2020), donate as you are able.  The community's need continues so please help your herd.
Great Promise for American Indians
Austin Harm Reduction
Phi Theta Kappa
River City Youth
Travis County Search and Rescue
West Rural Travis County Advisory Committee
Silver Santa
Fun Nation Foundation
Texas River School, Chautauqua Foundation
Travis Co. Constable Precinct 5 scholarship fund
It would be a true act of the spirit of Eeyore's kindness to contribute to any of the following non-profits if you have the means. We are very proud to have supported the following groups with proceeds from Eeyore's Birthday party.
Age of Central Texas
Austin Bat Refuge
Blue Dog Rescue
Different Stages
DriveaSenior
Emancipet
Hope Alliance
Hospice Austin
Keep Austin Fed
KIND clinic
KOOP
Latinitas
Lone Star Paralysis Foundation
Mothers Milk Bank
Red Arena Horse based therapy
Shadow Cats
Texas Gun Sense
The Vortex
West Travis County Rural Center
Workers Defense Project
Thank you for your support and we will see you next year, be kind and we will get by, we will survive…